Join in the community forum! The thINK blog is a place for community members to share their opinions, best practices, successes, and challenges. Add your comments to the blogs published here or write a blog and we'll post it for you.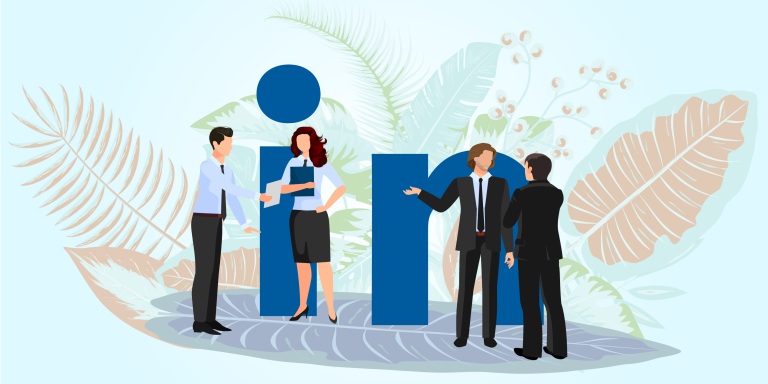 Social Selling: Creating Real Relationships on LinkedIn
You have the right mindset and you've created a great personal brand on LinkedIn. Now what? Is it time to start selling?
No!
Why? Well, let me ask you another question. Would you run up to a prospect at a trade show and throw your business card in their face? No! (Well, at least I hope not!) But unfortunately, that's how people use LinkedIn. 
So how can you create real relationships on LinkedIn? Keep reading for the exact methodology and cadence you can use to find, engage and connect with your ideal prospects. 
First steps first – consider the omni-channel approach.
Omnichannel Prospecting
What is omnichannel prospecting? 
Omnichannel means using every sales strategy, every tool and every channel to engage and connect with prospects. Why? Because buyers respond to sales outreach on different mediums differently.
One buyer might prefer you to send text messages, another a phone call and the other prefers engagement on social media.
In all cases, the goal is to turn every online engagement into an offline conversation regardless of the medium by which a buyer and seller engage with each other.
We call it the C2C2C or converting a connection to a conversation. This is one of the principal lessons we teach on how to start a conversation in the thINK Academy LinkedIn Sales Mastery program. (Visit thINKForum.com and select thINK Academy to access the online training).
In a remote selling environment, omnichannel prospecting is even more important. Here's some data about what's happened since March 2020:
Marketing emails increased by 62%

Virtual events increased by 1,000%

Sales calls increased by 28%

Ad spend increased by 22%
This means that we need to be prospecting across all available channels.
Omni-Channel Cadence 
What does a good omni-channel outbound cadence look like?
Referral Request

Social Engagement

Follow on LinkedIn

Email

Video Email

Call

Connection Request

Call

LinkedIn Welcome Message

Call

Text

Call

Social Engagement

Final Email

Unfollow/Unsave
It is crucial to build TOMA (top-of-mind awareness) with the prospect before trying to get them to connect and certainly before trying to get them to buy from you. And it's also crucial to reach out to them across as many channels as possible. They might ignore their email inbox or their voicemails but will check their texts and LinkedIn messages.
A regular cadence is also key when building the KLT factor (Know, Like and Trust). As my friend Bob Burg says, "all things being equal, people do business with and refer people they know, like and trust." Doing things like sharing video and voice messages makes people feel more like they know you; getting referrals and sharing helpful information will get them (hopefully) to like and trust you enough to agree to a meeting with you.
The Anatomy of a Message
If you have read any of the previous blogs on this topic or attended the thINK Academy live or recorded classes, you will have heard of our PVC Method. But if you've missed it, let me summarize.
PVC stands for:
Personalization

Value

Call-to-action
You can apply it to social messages, emails, texts, voicemails, direct mail, and InMails!
Personalization
Personalization goes way beyond just addressing people by their first name. You want to research their profile and see if there are additional commonalities you can speak to. This could be a shared alma mater. Friends you have in common.  Languages you speak or hobbies you have in common. Make sure to mention these shared experiences when reaching out.
If you don't know the individual, you can always speak to their buyer persona. What problems, needs, fears, or desires does that buyer type have? How can you help or solve them?
Value
What many sellers misunderstand, is that giving value is about addressing and alleviating one thing: pain. When you do this part right, you enter into "value selling."
If someone comes to your website and fills out a contact form or gives you another signal that they have a problem that your product or service resolves, that's awesome!
But we all know that is happening less and less. Buyers are doing their own research before even reaching out to sellers. The good news is that once sellers offer credible value and solutions to address specific problems of their ideal buyer persona, the prospects are going to listen. In sales prospecting, every salesperson must bring value to build value – there are no shortcuts. When your prospect sees what you offer and knows that it can provide value to help them overcome their pain point, they will actively ask to move the conversation along, as opposed to you having to force a sale.
Call-to-Action (CTA)
As salespeople, we are trained (and often measured) on booking appointments. We get it!
But here's where most ineffective sellers go wrong: they think the first call-to-action on a cold-outreach must be asking for a 15-, 30-, or 60-minute call or meeting with the prospect.
Do you like getting pitched like that? I don't! You have to earn the right to get that meeting.  
Instead of asking for the meeting, consider these CTA's: 
Directing the buyer to a helpful resource (e.g., downloadable eBook or video)

Soliciting their opinion by asking simple questions they can respond to

Inviting them to an event (webinar or live event)

Ask a question to validate their business pain(s)
You definitely want to add a call to action to every correspondence, whether you are using email, LinkedIn messages, texts, video messages or phone messages. If you don't direct your prospect to take action, they probably won't. But even the tiniest completed action (clicking on a link, responding to a note) can move the conversations forward.
Combined – you have Gold! 
So, to wrap up, follow the omni-channel prospecting cadence utilizing the PVC methodology to instigate and build conversations with your connections! To learn more about how to do this, register to attend the live thINK Academy class on Thursday, April 22, 2022, at 2:00 EST. 
And of course, if you haven't done so yet, jump into our LinkedIn Sales Mastery Program by visiting thINKForum.com and selecting thINK Academy — Online Training.