thINK members are part of a community of Canon Solutions America Production Print customers, led by some of the most successful inkjet service providers in the country.
If you're a Canon Solutions America customer or event sponsor, you can be part of the community. To download a PDF of the benefits, click below.
As a member of the thINK inkjet user group, you'll get the education, support, and information sharing you need to grow your inkjet business, increase revenue, and improve productivity. Join us as we pool our knowledge to tackle the topics that are top-of-mind.
Your membership gives you access to all of these benefits: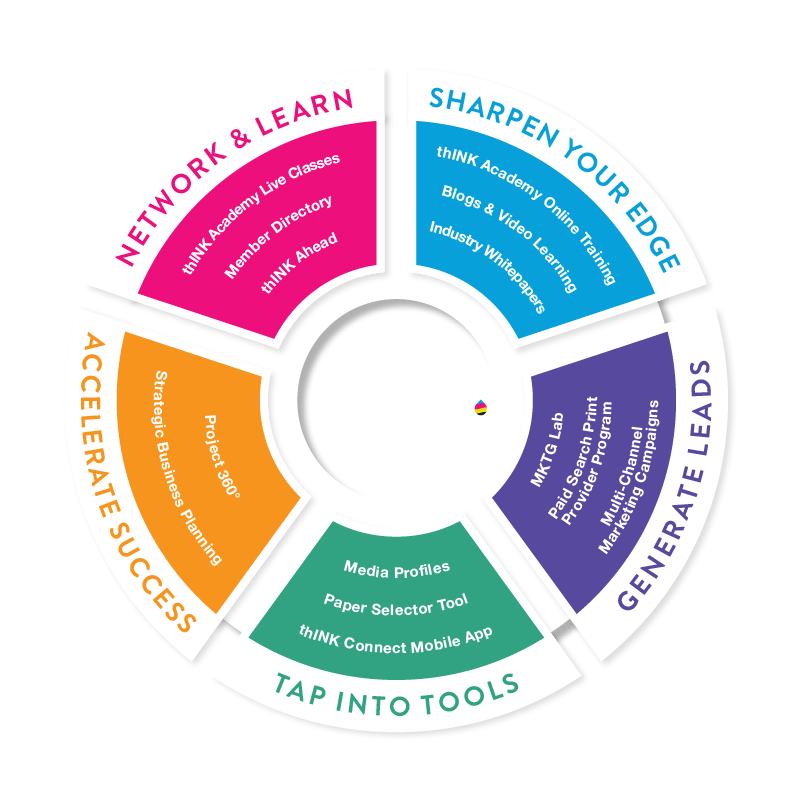 NETWORK & LEARN
thINK Ahead
Attend the thINK Ahead annual conference to network and learn from peers, partners, and industry experts.
thINK Academy Live Classes
Participate in live, instructor-led Sales, Marketing, Production, and Leadership classes.
Member Directory
Connect directly with peers and industry experts to extend your network.
TAP INTO TOOLS
thINK ConnectMobile App
Access thINK tools, training, and resources, and connect with peers from your mobile device.
Paper Selector Tool
Find the perfect paper for your print projects.
Media Profiles
Download media profiles or packs for your Canon inkjet press.
ACCELERATE SUCCESS
Strategic Business Planning
Collaborate with industry experts to build your strategic business plan.
Project 360°
Tap into free professional services to accelerate your success.
SHARPEN YOUR EDGE
thINK Academy Online Training
Sharpen your edge with online, self-paced Sales, Marketing, Production, and Leadership training.
Blogs & Video Learning
Access on-demand video learning to stay informed on industry trends.
Industry Whitepapers
Access market research, case studies, and insights on new applications and industry trends to identify opportunities to expand into new markets, win new business, and increase sales.
GENERATE LEADS
MKTG Lab
Download print samples and direct mail campaign templates.
Multi-Channel Marketing Campaigns
Team with an agency partner to create customized marketing campaigns.
Paid Search Print Provider Program
Participate in the funded paid search print provider program.