Join in the community forum! The thINK blog is a place for community members to share their opinions, best practices, successes, and challenges. Add your comments to the blogs published here or write a blog and we'll post it for you.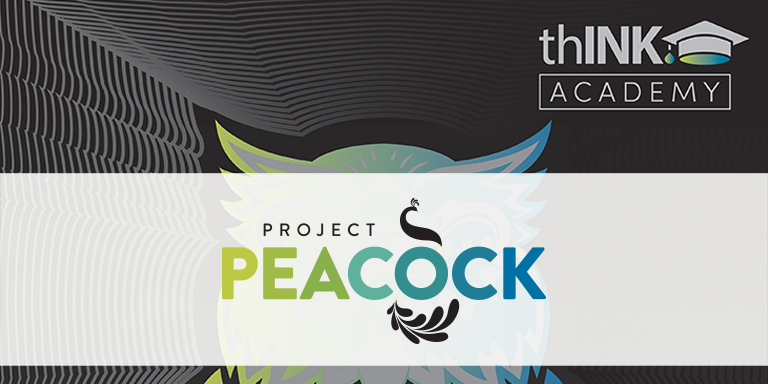 Print Customer Confidential: Publishing
Project Peacock hosted an online Publishing event with three speakers: Morten Reitoft from INKISH discussed the future of publishing printing and automation technology, Brandie Herrell from Friesens Corporation shared how designers and brands are creating new chapters in creative book applications, and Martin Pugh from Marathon Press shared the components of book creation, as well as some cool binding techniques. These speakers were informative and inspiring; I took many ideas away. I invite you to take my thINK Academy Course, "Print Buyer Confidential — Publishing" to learn more.
Here are some of the big takeaways I believe will matter most to you: 
Digital Publishing? Print customers do not think in terms of which devices their pages are printed on. Calling your service capabilities 'digital publishing' will have as much impact as calling them swiss cheese, and get the same result – HUH? Digital means ONLINE to brand and agency buyers and most marketing people. If you want to discuss digital publishing, they are going to assume you mean e-books. I do think you should have e-book production capabilities if you do any printing for publishers, but that to the side, make sure you are super clear you want to discuss the ability to CUSTOMIZE by using the digital printing process versus offset where all pages are the same. That is enough to get them interested and understand the conversation.

Forging New Formats: Brands and corporations are currently looking at books as information delivery devices. Content, packaged between a front and back cover, is getting very interesting and where opportunity lies. What if a coffee table book about fashion trends is also a catalog? What if the story of a company was produced as a legacy book? What if brands want to tell their stories — especially about sustainability and giving back — in unique ways? What ifs aren't required — all of that is already happening. You just need to get in if you aren't already. Come up with book ideas for your customers tailored to their business and audience. This isn't spray and pray, not yet. Once you have sold a few book projects, gathered intel, and can replicate success, you can mass market.

Finding New Friends: Besides established brands and corporations who wish to tell their story, start-ups topped the list as best prospects in this category. They are new, they want to stand out, they need to tell their story, and you can create a digital bridge from the book to the internet which is attractive to this group. I want to focus on that for a second. Pitching a brochure to a start-up to share information about their new venture will be the 'print is an antiquated medium' kiss of death for you, and any future engagement. No matter what vertical the business sits in, if the CEO is 40 or under you had better bring all digital bridge capabilities you have or can partner for, and all the creativity you can afford. These companies believe they are special and have a unique offering, and you need to help them manifest that in their printed and marketing materials.

Timing is Everything: Speed to market is still one of the highest priorities of brands and agencies. Supply chain issues to the side, digital printed publishing is faster. Focus on that, and make sure to highlight there is more time to create files, less time needed to print (no plates etc.) and hit delivery date. That is a very attractive proposition to these buyers.

Preparing Your Pitch: This one just about sells itself if you focus on big picture concepts outlined above and move far away from 'every book can be different' conversations. They don't want every book different, but some can be, or they can gang up and customize by city, country, or region, for example. That is a more manageable concept for them, and way more sellable for you. I strongly suggest you print up A, B, and C book samples. Book A, completely stagnant. Book B is everything digital printing allows. C is an alt version of B so they can see customization and personalization changes. It never works showing a customer one version of variable data — they don't know what is variable! I would also suggest creating an A and B production timeline reference. Show them where they lose time with offset, explain why, and give them a final summary for example – Offset X amount of time from file to delivery / Digital Printing X amount of time from file to delivery. Educate them on the value of digital printing as much as you can through your communications. It can come in handy for other projects. 
Lastly, everything above applies to a magazine format and anything and everything you can create that has a cover and information inside. 
PUBLISH LONG AND PROSPER!
+++++ 
Deborah Corn is the Founder of Project Peacock and the Intergalactic Ambassador to the Printerverse, providing printspiration and resources to print and marketing professionals through her website, PrintMediaCentr.com. She has 25+ years of experience working in advertising as a Print Producer and now works behind the scenes with printers, suppliers, industry organizations and events to help them create meaningful relationships with their customers and achieve success with their social media, content marketing, event marketing and sales campaigns. 
About Project Peacock: Project Peacock began in 2017 with a mission to share all the new and cool opportunities and applications available for printing and print marketing with buyers, creative and marketers from brands and agencies. After meeting with more than 2200 attendees between 2017 and 2019, which grew to include students and printers and expanded to event spaces as Project Peacock Print Fair, the pandemic shut us down in 2020. With uncertainly about gatherings at the start of 2021, I morphed Project Peacock into an online, global resource platform where attendees could get intel, get samples, and get partners 24/7, from wherever they were. The platform also incorporated on-demand webinars and interviews, networking, and live events. Take my thINK Academy course, "Print Buyer Confidential" to get exclusive intel from agency and brand print buyers and practical advice on how to connect with them to create meaningful relationships and generate sales.