Interview with thINK Member Brianne Baggetta Noonan - The Mailworks
Submitted by
sjammallo
on March 02, 2017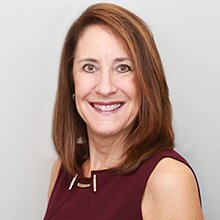 About a decade ago, after years of steady growth, Brianne Baggetta Noonan, president of Albany, N.Y.-based The Mailworks, had a revelation: How can you market your product to new customers if you're outsourcing your work and you're not passionate about it? At the time, the company was receiving 60-70% of its work via outsourcing from print brokers or offset printers. But Baggetta Noonan wanted to bring work in-house to set them apart from their competition. She knew that if they wanted to grow their business, they couldn't continue to outsource all of their work to offset printers, but she also knew that they wouldn't be able to add offset capabilities in-house. That is when The Mailworks installed its first color digital press transitioning from a letter shop to a direct mail marketing firm.
Since 2012, the company has seen 100% growth, attributed to new technology and services as well as the acquisition of FS marketing, an Albany-based company offering complete marketing solutions for hearing aid dispensing locations. 
"We went from being order-takers to order-makers," Baggetta Noonan says.
But being order-makers meant that The Mailworks would need to meet the demands of its customers. Although the company already had a fleet of digital presses, including two Océ VarioPrint 6000s, Baggetta Noonan explains that the time came for the company to make a decision: It needed to either continue down a path of growth while outsourcing personalized direct mail that it couldn't do in-house, or it could take a "calculated risk" and add an inkjet press.
In September 2016, The Mailworks decided it was time to reap the rewards of inkjet with the installation of an Océ VarioPrint i300. The addition of the VarioPrint i300 enabled The Mailworks to bring the last of its outsourced work in-house and offer its customers the full-color personalization that they need in the price range that they want, cost-effectively and quickly. 
Baggetta Noonan notes that customers are happy with the increased flexibility the VarioPrint i300 has brought them. For example, the company can now print card offers as an incentive in direct mail campaigns with colors that vary by segment, allowing cards with multiple companies or offers to be printed on the same sheet.
One of the aspects of The Mailworks' newly established flexibility is that it can offer customers variable data in full-color rather than just black and white. Previously, The Mailworks had to limit what customers could choose for a direct mail campaign. Now, Baggetta Noonan says customers can change multiple variables on the piece, but she advises her customers to "embrace the new color with caution," solely from a marketing perspective. Customers who are excited about the new possibilities may make too many changes to their existing products, resulting in brand recognition implications. 
Although the transition to add inkjet has gone smoothly, Baggetta Noonan explains that the company did rely heavily on Canon to assist in training and ink optimization. The company worked with Canon to determine the amount of ink needed from both a quality standpoint and an acceptable price point. 
That's one thing about inkjet that encouraged The Mailworks to transition most of its self-mailer work to the VarioPrint i300. By using a 9-pt. matte substrate, the company is no longer experiencing scratch-offs from optical character readers (OCR) at the post office. With inkjet, the ink sinks into the substrate, resulting in beautiful, high-quality mailers that can withstand the stressors of going through the mail stream. The Mailworks has also transitioned four-card inserts on 9-pt. matte, as well as its letters, which are undeniably unique. The company worked with a paper manufacturer to develop 9x19˝ converted inkjet sheets for its 8.5x18.75˝ finished letters, of which The Mailworks has printed more than one million since the installation of the VarioPrint i300. 
The Mailworks, which was founded in an attic by Baggetta Noonan's mother in 1984, doesn't just offer unique inkjet options, and it isn't your typical direct mail provider in general. The woman-owned business runs on a non-traditional business model. The company doesn't employ any sales people; it does all of its sales by marketing its capabilities. The company is not only led by young professionals, it is a generally young company, which lends itself to a team that has an extensive understanding of SEO, social media marketing, sequence marketing and AdWords. Its unique marketing strategy is what Baggetta Noonan says differentiates The Mailworks from its competition, but it is also what gave the company the opportunity to add the VarioPrint i300 press. 
The Mailworks operates with a unique incentive based program: gamification. There is a point system, with points awarded for achieving specific goals. Each department gathers points, for things such as mistake-free production, inking a new customer or printing a record number of pieces in one week. When 100 points is reached, the whole company is treated to lunch. Personal days are also awarded for reaching certain goals. The departments work as a team to meet the same end goal — a better and more efficient workflow. Baggetta Noonan says this incentive based system encourages young people to feel excited about their work and their accomplishments. It's crucial that The Mailworks team feels pride for their end product, otherwise Baggetta Noonan says, they aren't succeeding with company culture.
In all, adding inkjet and bringing work in-house has made a difference in The Mailworks' output and morale. Baggetta Noonan adds that other companies interested in the technology would be surprised at the breadth of work that the VarioPrint i300 can take on. For The Mailworks however, the most important thing the press has given them is pride. 
"We used to be so reliant on offset," Baggetta Noonan says. "When you're outsourcing that much work, you can't take full ownership of it. … [The VarioPrint i300] gives us control and a sense of pride."
Sheri Jammallo is Sr. Advisor, Corporate Enterprise Marketing Manager at Canon Solutions America; with a keen focus on the Transactional, Direct Mail and Corporate In-Plant print production space. She brings with her a wealth of industry knowledge that enables her to lead field relevant go-to-market production print strategies and programs for Canon Solutions America that bring value-add to their production print customers and overall print industry. Previous to Canon Solutions America, Sheri spent 14 years in several Sales Leadership roles at Xerox