Join in the community forum! The thINK blog is a place for community members to share their opinions, best practices, successes, and challenges. Add your comments to the blogs published here or write a blog and we'll post it for you.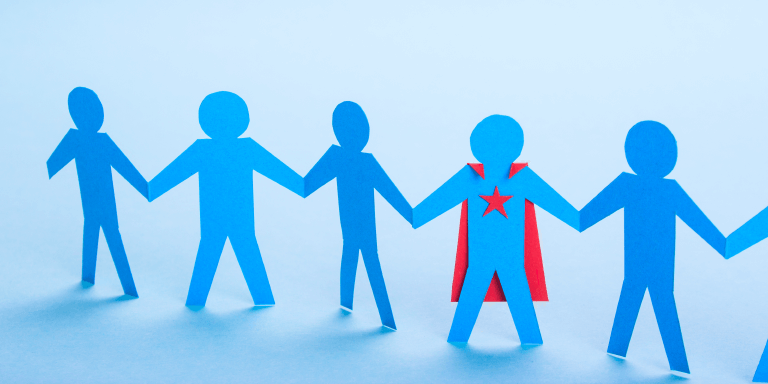 Discover Your Social Selling Superpower
Your Leads are All Around You
Have you heard the saying, "Water water everywhere and not a drop to drink"? It's an adaptation from Samuel Coleridge's Ancient Mariner, a poem about a crew stuck in the doldrums or windless ocean and dying of thirst. And that's how it can feel for salespeople sometimes. Here you are, millions of people, only a few keystrokes away, and for some reason, you are unable to connect and engage with them.
And that's where social selling comes in. If you ask ten people to define "Social Selling," you'll probably get ten different answers. This conundrum can make it difficult to understand what social selling really is and how you can use it effectively.
So, let me make it easy for you. Social selling is about starting more sales conversations and expanding existing relationships. That's it! Salespeople can use social media platforms to find, engage, and connect with potential customers to turn those connections into sales conversations.
Of course, it's easier said than done. 
Your ability to be successful at social selling really comes down to one thing — a willingness to learn new things.
Pre-pandemic, a lot of salespeople could get away with doing things the way they had always done them. But since 2020, a lot of our normal avenues (site visits, customer dinners, trade shows, conferences, and the golf course) have been limited or canceled. And while referrals are and will remain a great source of business, even they can dry up over time.
Which is why social selling has moved from "something the millennials are doing" to a necessary skillset for everyone in sales.  
The good news is that you do not have to reinvent the wheel. You already have deep skillsets that you can bring to the social selling game. In fact, you might discover you have social selling superpowers you didn't know you had!
Once you have decided to test the social selling waters you might discover that quality and qualified prospects are all around you. Now you just need to learn how to reach out and engage the right way.
Just Having a LinkedIn Account Isn't Enough
While a solid first step is making sure you have a LinkedIn account, that is not enough — it is just the tip of the iceberg! Most people have a LinkedIn account that is barely more than a resume. They don't know how to create a strong brand for themselves. They don't know how to find the right quality prospects on LinkedIn. They haven't tried or have had no luck connecting with those prospects. They don't know how to create engagement — inbound or outbound. And so they have no luck generating quality leads on LinkedIn and think it doesn't work. However, once you learn how to use LinkedIn effectively, it can become a social selling pipeline turned on full blast!
Tap Into Your Social Selling Superpower
So, how do you begin to access all the leads around you? Enroll in the thINK Academy "LinkedIn Sales Mastery" course and learn how to tap into your Social Selling Superpower!
In this course you will learn:
- How to build your own powerful personal profile and brand
- The right ways to find and engage with your network
- The secret to getting a higher acceptance rate and more connections 
- How to serve up helpful, relevant resources and content
- Why developing a social selling cadence is important
Register for the thINK Academy Live Class to Discover Your Social Selling Superpower