Chris Kropac, President of PCI Group, Shares His Story
Submitted by
c.kropac@pcigr…
on October 16, 2018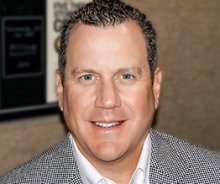 Embracing change, focusing on our customers, standardizing our processes, and investing in new technologies like inkjet have been a big part of our success here at PCI Group.
We serve the healthcare, financial, utility, telecom, and collection industries, so you can imagine what our customers value most: security, compliance, and accuracy. We are a compliance transactional mailer. Our only focus is to deliver highly compliant, ultra-secure transactional communication solutions for businesses where security of customer-centric data is critical, precision and accuracy are crucial, and compliance is a must.  
I like to compare PCI Group to an ice cream shop that sells 150 flavors of vanilla; clients can get anything they want, as long as it's printed on 20 or 24 lb. paper, either an 8.5 x 11 or an 8.5 x 14 sheet, and inserted into a #10, 6x9, or 9 x 12 envelope. These limited options mitigate risk and ensure end-to-end integrity.
This approach has led us to embrace the changes that were necessary to serve the most demanding customers in the world, changes like:
implementing a whole fleet of inkjet presses, along with intelligent insertion equipment to create a White Paper Factory production environment

adopting lean manufacturing for process improvement

becoming postal experts

implementing enabling technologies to enhance security and compliance and to build transparency with our customers
In the business we're in, there is no substitute for consistently getting it right, time after time. To that end, we have prioritized the need for accuracy to the point that today we've achieved one of the highest ratings in the industry at 99.99999%. In 2017, we produced close to 400 million outbound packages while maintaining this accuracy standard. That's the kind of consistent excellence our customers are looking for from us, and here's how we did it.
Creating a White Paper Factory with Inkjet
There are pivotal moments in a company's history, when one event can change everything.  In 2015, that event occurred for PCI. Through a strategic partnership, we onboarded one of the largest healthcare companies in America. In just 3 months, we quadrupled our monthly print images and tripled our monthly package volume. To sustain this business, we knew we would need to streamline our processes. A crucial component of re-engineering our process was to adopt a White Paper Factory, inkjet printing environment.
Prior to this, we utilized black toner on four roll-fed Océ PageStream 372 presses. Over the course of three months, we went from mailing 10 million single-page packages a month to 32 million multi-page packages and grew from one inkjet device to six inkjet devices in order to keep up with demand. Our fleet now includes two Océ JetStreams, three Océ ColorStreams, and one Océ VarioPrint i300, all equipped with the ability to print with security inks such as MICR.
Lean Manufacturing
Simply implementing a White Paper Factory was not enough. We went on to adopt lean manufacturing principles to all our workflows. As part of this transformation, we transitioned from a QC process to a QA process and implemented over 190 standard works. The QA team no longer inspects individual envelopes; now, they audit the process itself. In 2018 alone, we will perform over 40,000 standard work audits.
The new lean approach also enabled us to take advantage of the full capabilities of our inkjet investments. By streamlining the processes, we're able to provide highly variable data and images integrated with our customer's transactional mail. This enables them to cross-sell and upsell products and services to their customers in a highly targeted way, with little or no additional cost. For example, we can help an insurance company introduce a new insurance product to an existing customer when they receive their invoice. We can also ensure that each package is more verifiable by building the inserts into the last page of the PDF. Another example is using dynamic perfing to offer clients coupon-size, full-color inserts that pack a punch. None of this would have been possible without making these changes to our company and, of course, taking advantage of the high-speed, full-color capabilities that inkjet technology provides us.
Christian (Chris) Kropac, Jr. is the President and Co-Owner of PCI Group, a mission-critical print and mail provider headquartered in Ft. Mill, SC with a secondary production facility in Dallas, TX. As a family-owned business since 1970, PCI Group has been providing customers highly secure, highly personalized, print and electronic communications that are fully compliant with the latest federal regulations, including HIPAA, FISMA, and SOC I & II and PCI DSS.