What to Do When the Finish Line Is Near
Submitted by
Bill Farquhars…
on June 01, 2020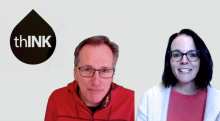 Put yourself in the shoes of your customers for a second. Where you think they want to be once the re—starting gun goes off and the business world to start spinning again? Now is the time to get out ahead of that conversation and talk to your customers about how you can help.
Trust us, your clients are going to want to get up and running again as fast as possible. There is certain to be an adjustment period, but the need to get the cash register ringing with sales again will be urgent.
•       What marketing will they do?
•       What will their message be?
•       Do they know about your full capabilities?
Too often, we are called in at the "quote stage of the job." That's where we are valued for our prices only. Moving up the food chain to the "design stage of the job" requires providing ideas and solutions and that's where this week's sales tip will bring you. Talking now about their upcoming needs makes you a part of the conversation and puts you in the drivers seat for obtaining the order your price. Start thinking ahead now.
Stay safe and keep learning.
*********
Bill Farquharson is a sales trainer for the graphic arts. He can be found at BillFarquharson.com
Kelly Mallozzi is a content creator for the graphic arts. She can be found at SuccessInPrint.net