Join in the community forum! The thINK blog is a place for community members to share their opinions, best practices, successes, and challenges. Add your comments to the blogs published here or write a blog and we'll post it for you.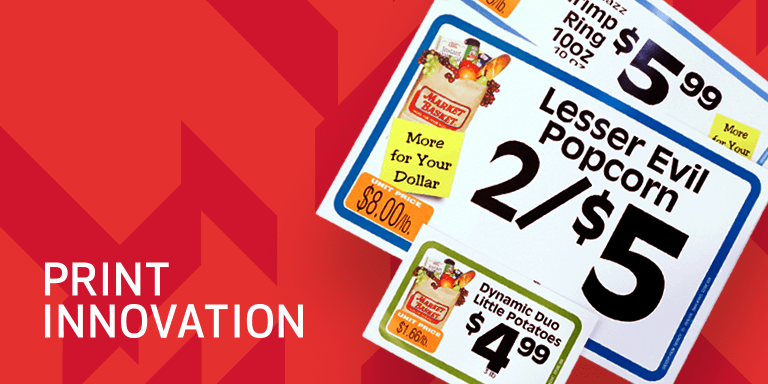 Supermarket Chain Discovers a Good Way to Go with Variable Signage Program
The grocery business is one of rapid change and fluctuation. Sales and promotions for certain products usually don't last more than a few days, and of course grocers are at the behest of the availability of certain items, particularly fresh fruits and vegetables, dairy products, and a host of other perishables.
This means grocery stores and supermarkets need flexible signage and display options to react to market forces like supply and demand while creating a positive consumer experience and avoiding bottlenecks or confusion in store productivity.
The ability to achieve this level of flexibility coupled with quality, eye-catching signage was the exact problem a large New England-based supermarket chain was struggling with before partnering with Goodway Group, a New York-based digital media and marketing agency that specializes in helping large companies scale unique or niche marketing efforts.
With existing partners like Staples and DoorDash, Goodway had the experience and expertise to craft an innovative variable signage program that could be easily updated to reflect changes in prices, promotions, and products.
The automated signage program uses real-time data and projections for the next day's inventory and promotions to create more than 5,000 individual signs each day. Printed each night between 6 and 8 pm, the signs are cut, sorted, boxed, and shipped to more than 100 chain locations overnight for use the next day.
Canon Solutions America's varioPRINT i-300 series provides Goodway the capacity to leverage real-time customer data for fast, accurate printing. Superior color quality makes for vibrant signage that is both informative and visually appealing. In addition, the varioPRINT i-300 allows for wider format signage to help convey more information than the supermarket's previous display solution, and Canon's inkjet printing technology helps reduce overall print costs.
With quick setup and an intuitive user interface, Canon's inkjet print solution helped create the adaptable and agile signage solution that Goodway Group's customer needed to keep pace with competitors and solidify its standing as a major player in the Northeast grocery market.
Have you recently completed a project that sets your organization apart or demonstrates an interesting application using a Canon Solutions America product or solution? If so, we'd love to tell your story! To submit your project, contact Cindy Cumings ccumings@thinkforum.com.