Inkjet Paper is on the Rise … thINK Tools Help You Navigate Your Options!
Submitted by
lperez-sierra
on March 28, 2018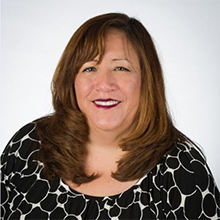 As early adopters of inkjet technology, you all know how exciting this market has become in a few short years. If you think about the evolution of inkjet, you would probably agree that between when inkjet was first introduced to the market ten years ago and where we are today, a big part of that success has been around media options. While there have of course been improvements in inks and printheads, I'm truly amazed at the quick uptick that we've recently seen with inkjet-enabled papers. Paper has been a substantial enabler for new applications and capabilities of inkjet as a whole and remains an important component of your print business.
I've been in the print industry for over 25 years, so I understand the value and importance that media plays in bringing products to market. In my new role at Canon Solutions America as a Product Marketing Specialist for Media and Papers, I'm excited to have the opportunity to help drive the expansion of substrate options available to our customers and thINK members. Here are some handy tools that are currently available to you as thINK members, as well as some insights on what's to come soon!
The thINK Media Profile Library – If you haven't used this thINK Forum tool yet, you really should! This library gives you access to download the media profiles available for the expanding list of paper options for your press as well as a quick review of how to use them. Because of the feedback you've given us since we first launched this tool, you will notice new filtering options for selecting by technology, media, and ink types in the near future. We've also added a temporary naming convention key that can be used until we roll out an updated filter to locate the ColorGrip profiles more quickly. While the media library currently only hosts the profiles for the Océ VarioPrint i-series, you can expect future expansion of the list to include the Océ ProStream and Océ ColorStream inkjet presses! 
The thINK Paper Selector Tool – This tool is also really exciting. Filled with paper and media options from over 50 paper mills, this database can help you find the right paper for your next project. You can search paper availability by inkjet press, mill, or paper features. This list is constantly growing since we are continually testing new media options on our presses, so be sure to check back often! 
Working with paper mills, paper merchants, and converters is already propelling the growth of inkjet applications among users. Whether it's developing a new application around inkjet or creating improvements to a specific media type, we continue to evolve our technology to drive growth in the industry. I hope to deliver value directly to you by listening to your needs and goals for your business. I'm working on a number of projects, including paper education, insights, and collaboration with our partners, and I love to hear success stories from customers like you! Do you have a paper story to share? Leave a comment below about your experience with the currently available thINK paper tools or thoughts on what you'd like to see updated next. Let's get this conversation started!