Join in the community forum! The thINK blog is a place for community members to share their opinions, best practices, successes, and challenges. Add your comments to the blogs published here or write a blog and we'll post it for you.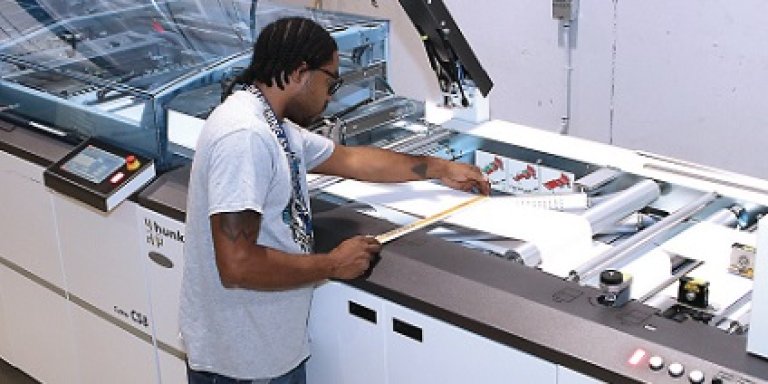 Automation & Finishing: How One Data-Intensive Print Environment Keeps Pace
Content Critical Solutions, a provider of technology solutions, process outsourcing, and production services, knows the importance of reliable, automated equipment in high-volume, data-intensive print environments. When the company installed a Canon ColorStream 6900 production inkjet press in one of their four plants, they knew they'd need an in-line finishing solution that could keep pace. We sat down with John Slaney, CTO, and Fred Van Alstyne, COO, to discuss how they made such a critical decision.
 "We used our first Hunkeler system when we were printing on-demand newspapers to go on flights out of JFK. When you have something with a lot of moving parts and a lot of activity going through it, it has to be solid. And that's what our experience over the years has been with Standard Finishing and Hunkeler," says John Slaney.
"We had some problems with competitive solutions in the past, and we felt, based on our long history and experience with Standard, that Hunkeler was a better decision," says Fred Van Alstyne.
To complement their Canon ColorStream press, Content Critical installed an in-line configuration that includes both roll-to-stack and roll-to-roll capabilities, including the Hunkeler Generation 8 Roll-to-Roll solution and the Generation 8 Roll-to-Cut/Stack line along with the Hunkeler DP8 Dynamic Perforating module.
Shortly after, the company equipped another of its plants with the same capabilities, except in a near-line configuration, to finish output from another Canon press. At this facility, the company produces voting ballots. Before installing the new finishing line, ballot printing typically took hundreds of costly labor hours because each ballot needs to be matched to the correct shipping label for each state.
"When we were making decisions about how to configure our ballot printing operation, we reached out to Standard," says Van Alstyne, "and they brought in people very familiar with the process. That helped us make the right decisions. We were able to eliminate the labeling process because we are streaming the box label and the separator sheets right into the print stream. They come out offset stacked, are dropped into a shrink wrapper, and then right into the box. Not only was this a significant labor saver, but it eliminated any potential errors in matching. And we can produce two-sided ballots up to 39 inches long."
"The reliability of the Hunkeler lines is vital here," adds Slaney. "The nice thing I can say is we immediately see the number of reprints and kick-outs we get from the process. I will tell you it's really been minimized. The systems are working very well. Anytime we have to go back and regenerate something because it wasn't cut right, for example, that adds time to the process. These systems are reducing the number of jams and errors we experience, and that's really important in an operation like ours."
You can read more from Content Critical Solutions here.