Join in the community forum! The thINK blog is a place for community members to share their opinions, best practices, successes, and challenges. Add your comments to the blogs published here or write a blog and we'll post it for you.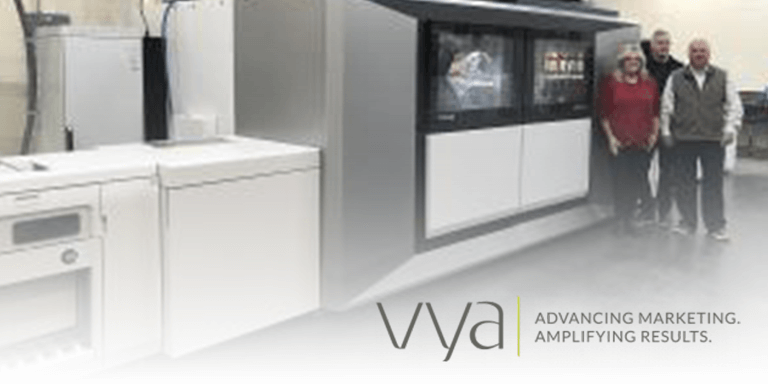 Vya Increases Speed To Delivery For High Impact, High Quality Targeted Direct Mail Campaigns With The Canon varioPRINT iX Sheetfed Inkjet Press
"Clients want to know we can handle large print runs and quick turnaround without sacrificing print quality. The Canon varioPRINT iX sheetfed inkjet press helps us do that."
— Terry Brokamp, SVP, Vya
"In today's fast-moving world, our clients look to us to help them execute highly personalized and impactful direct mail campaigns in days — not weeks. With our Canon varioPRINT iX sheetfed inkjet press, we can handle large print runs and quick turnaround without sacrificing print quality, and that helps us meet our quality of excellence requirements while delighting our customers with turn time," said Terry Brokamp, SVP, Vya. 
Vya, based in Cincinnati, OH, is a leading provider of marketing execution technology and services for distributed organizations with customers that span the franchise, financial services, insurance, utilities and manufacturing industries. Their mission is to deliver 'simplicity' to their customers with turnkey print production services and Vya's proprietary end-to-end marketing resource management platform that enables companies to effortlessly manage, customize and deliver marketing materials to the frontlines of their businesses. The success of Vya's marketing resource management system is driving increased client demand for high-quality direct mail campaigns, delivered to the field faster with more relevance.
The Canon varioPRINT iX plays a critical role in this end-to-end solution. Teamed with Vya's web-based custom marketing portals, Vya's clients can provide approved, high-quality, customizable marketing materials to field operations – franchisees, bank branches and MLOs, agents, dealers, retailers and distributors – printed faster and in the quantities required for local markets. 
"The Canon varioPRINT iX has more than doubled our digital color print capacity, and that in addition to our robust finishing capabilities (including folding, scoring, gluing and inserting) has enabled us to achieve fast, flexible, print and fulfillment services that help our customers get high quality tailored print campaigns into the field faster," Terry said. "Making it simple for our customers to quickly deliver complex, high impact, high quality direct mail is what sets Vya apart, and why we have a loyal customer base." 
Francis McMahon, executive vice president, Production Print Solutions, Canon Solutions America, Inc. shared, "I commend Vya's leadership team for their vision of simplicity, and teaming Canon's industry-leading inkjet technology with their proprietary marketing technology to execute on that vision. I welcome them to the Canon Solutions America inkjet family and look forward to seeing Vya continue to thrive!"
Canon Solutions America has led the evolution of print for nearly a decade, with industry-leading web-fed, sheetfed, and total high-volume inkjet market share in the U.S. reported in 2021. They support their inkjet customers in multiple ways, including through their Executive Sponsorship of thINK, an independent community of Canon Solutions America inkjet customers. Canon Solutions America offers their inkjet customers complimentary membership to the inkjet user group, which is led by a board of Canon Solutions America inkjet customers and offers tools, training and educational resources designed to accelerate success with inkjet. Canon Solutions America inkjet customers can request membership by visiting thINKForum.com. 
Companies interested in learning more about Vya's range of print capabilities and marketing resource management systems can contact Vya's Allan Greer at agreer@vyasystems.com.
About thINK Forum 
thINK is an independent community of Canon Solutions America inkjet customers, solution partners, and print industry experts, and Canon Solutions America is a proud executive sponsor. Led by some of the most successful inkjet service providers in the country, it provides a forum for members to network, gain knowledge, discuss common challenges, and share best practices. For more information, visit thinkforum.com. 
Canon is a registered trademark of Canon Inc. in the United States and elsewhere. All other referenced product names and marks are trademarks of their respective owners. Views and opinions expressed in this testimonial are based on the actual experiences of each voluntary participant.