Join in the community forum! The thINK blog is a place for community members to share their opinions, best practices, successes, and challenges. Add your comments to the blogs published here or write a blog and we'll post it for you.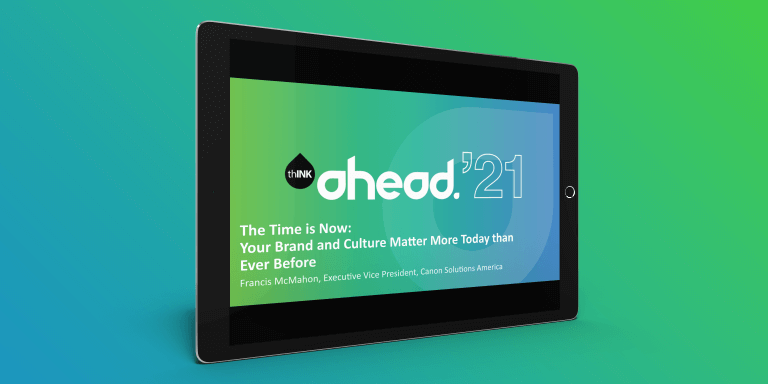 The Time is Now: Why Your Brand and Culture Matter More Today than Ever Before
Stop for a second and just think about how our daily lives and perspective about the world have drastically changed in the last 24 months. Simple things like eating in restaurants, going shopping, and gathering with friends and family have taken on new forms and shapes, and this same seismic shift goes hand-in-hand with how companies have pivoted to stay competitive, relevant, and engaged with customers during the COVID pandemic. 
Like so many other industries, print has experienced a variety of transformations during the last two years. So much of our world has shifted to a digital landscape, and both employees and consumers are more invested in the ways companies comport themselves and engage in larger conversations on social issues or climate change.
To put it simply, brand and culture matter more today than ever before, and companies across the world are pausing, taking a step back, and reflecting on how they engage with customers and the culture they create for employees.  
At thINK Ahead 2021, Canon Solutions America's Executive Vice President of Production Print Solutions Francis McMahon led a session to share how companies like Canon have placed great importance on brand strategy and empowering employees to influence and execute their company culture to make professional lives more rewarding and also create a memorable, authentic customer experience. 
McMahon also detailed three major transformations in the print industry, how employers must be thoughtful and deliberate in creating an inclusive company culture, and how a company's brand and ultimate success is inextricably tied to the ideals on which a company is built.
View the on-demand session to learn more.