Join in the community forum! The thINK blog is a place for community members to share their opinions, best practices, successes, and challenges. Add your comments to the blogs published here or write a blog and we'll post it for you.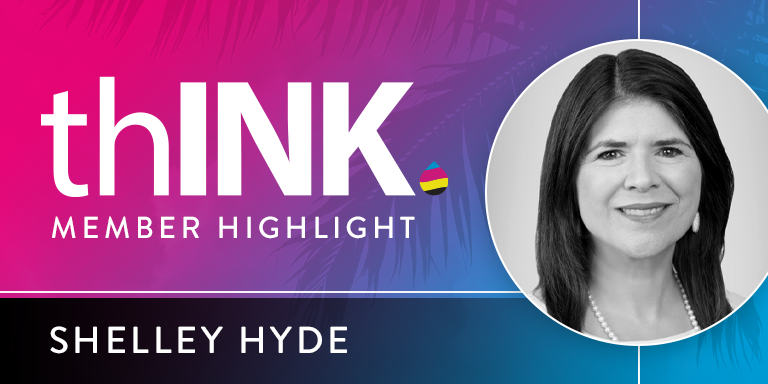 thINK Member Highlight: Shelley Hyde, Partner & Co-owner of PrintMailPro
PrintMailPro is a full-service commercial printing, direct mail marketing, and statement processing provider located in Texas. After a merger in 2014, PrintMailPro expanded to serve both the Austin and Dallas/Ft. Worth areas. And a few years later, Shelley Hyde, Partner and Co-owner, was able to add versatility, full-color, and high-speed variable printing to PrintMailPro with the Canon ColorStream 3700.
Although 2020 came with its share of challenges, PrintMailPro rose to the occasion. With the power of the ColorStream, the business worked with clients  to provide a high volume of election related notices and political mail, a pressing need during an election season that produced unprecedented voter turnout.
 
PrintMailPro at a glance
PrintMailPro is big enough to handle large projects but small enough to give the type of personal attention that clients deserve. It's a family-operated business, with Hyde and her brother working together as co-owners. 
With their collaboration, PrintMailPro features two locations with a broad range of capabilities that allows them to handle jobs from concept and design all the way to fulfillment. 
Currently, the Canon ColorStream is the main production printer at the business's Dallas facility. They also run a number of color and black toner devices in both locations, as well as wide-format and offset printing equipment at the Austin location.
The company's market varies from law firms, nonprofit organizations, marketing firms, local and state agencies, and more. Most of their transactional type mail is done out of the Dallas location because of how fitting it is for the Colorstream. One niche market they've tapped into in the area is toll notices for toll authorities. They print a large volume of toll notices and property tax statements for multiple clients.
 
Transition to inkjet
PrintMailPro made the decision to begin using inkjet Fall of 2017 after spending a year analyzing market options. The decision was made to fulfill client interest in increased flexibility with high-speed variable color printing. 
Before the Colorstream, the company was able to print black and white at high speeds and relied on offset printed shells for our color. Transitioning to inkjet color allowed them to reduce their need for pre-printed shells and offer variable color in a cost-effective solution. The switch provided them with more flexibility. 
 
Unique projects made possible with inkjet
PrintMailPro has been able to leverage its new capabilities with inkjet to convert customers to inkjet projects. Through the Project 360 program, they were able to add 7pt. postcard stock to their house stocks, inspiring several of their cutsheet postcard customers over to inkjet. 
"We weren't counting on that when we got the ColorStream, but it turned out to be a bonus," said Shelley Hyde, Partner & Co-owner of PrintMailPro. "We've expanded that. Now that we have the house stock as an option for clients, there are other projects we've been able to do on the Canon. It was an unexpected win. You have some clients who come in with a campaign, project, or goal, and they want to utilize several different forms of direct mail to reach that goal. We can say, 'We have a high speed fully variable color solution for postcard printing' and add that as an option into the mix."

Overcoming 2020's challenges
2020 was a tumultuous year for everyone, but PrintMailPro was able to remain flexible and prosper throughout last year.
"What we've seen are a lot of ups and downs," said Hyde. "We were slow for a couple of months, but all of a sudden, it would be crazy busy before it died down again. It comes in spurts and waves."
In spite of the challenges, the business has been able to ramp up and produce a high volume through the Colorstream's speed, helping them to become more nimble with changing demand. 
2020 was also an important year for U.S. elections, giving PrintMailPro a boost of election-related business. Although they weren't involved with the mail-in ballots themselves, they sent out other election related notices as well as political mail and voter registration applications. 
Because of the pandemic, candidates and organizations couldn't have face-to-face contact, so there was an increase in direct mail marketing. The company benefited from that at the end of last year with a boost to their production schedule.

Election mail printing during a pandemic
PrintMailPro was a key contributor in providing voter registration applications to voters in Texas. With their contract with Dallas county for printing of voter registration cards, address confirmation notices, polling location change notices, and information notices, the business was able to make efficient work of election-related mail with the Colorstream's capabilities.
"There were also more notices that needed to go out due to having an election during a pandemic, along with details about where to vote," Hyde said. "A lot of the projects we did were to make sure people were informed ahead of time. In Dallas/Ft. Worth, you don't have to go to your precinct anymore. You can go to any precinct to reduce long lines and help to spread out voting."

Recommendations for switching to inkjet
PrintMailPro's inkjet web technology has become a part of their selling point since they adopted it, inspiring customers to approach them because they have it. It has positively impacted their growth. Because of the improvements they've experienced, they've gained insight on steps companies can take while considering the switch to inkjet.
"Do your research and partner with a vendor you can trust," Hyde said. "That's made the difference for us. Then of course run the numbers, calculate the ROI. We haven't looked back — it's been a good decision that made us more efficient and increased our capabilities. We're more competitive in the market because of the ColorStream."

The future of inkjet and printing
The future of inkjet and the print industry is bright as innovation in technology continues. With PrintMailPro, they foresee a broadening of the media that can be printed on. With their existing ColorStream, they're approving more papers and media. After receiving a sample of stock with integrated cards that were approved for the ColorStream, they're consistently finding new materials to print on, which leads to more products they can sell.
"With the industry and technology in general, the quality is improving on newer models," Hyde remarked. "We were fortunate enough to see demos of the Prostream and varioPRINT i300, which are excellent products that Canon has. The technology is improving every year both in quality and media. That makes it more versatile, more marketable, and more ways to grow our business." 

PrintMailPro's role on the thINK Board
After being contacted to join the thINK board, the business was open to the idea of giving input on what would be most effective for the print industry. And as an integral part of the thINK board, PrintMailPro sees the value in coming together and seeing inkjet technology in action. 
"I've really enjoyed attending the thINK conference the last several years," Hyde commented. "The first year, we were evaluating inkjet products before purchasing. The sessions are great and the networking is invaluable. Being able to talk to other users — some of these companies are just like ours and some are using the technology in completely different ways — is invaluable. We try to go every year. I hope I can provide that feedback and be a sounding board for planning future conferences. There's already a great team in place and I look forward to assisting them in any way I can."