Join in the community forum! The thINK blog is a place for community members to share their opinions, best practices, successes, and challenges. Add your comments to the blogs published here or write a blog and we'll post it for you.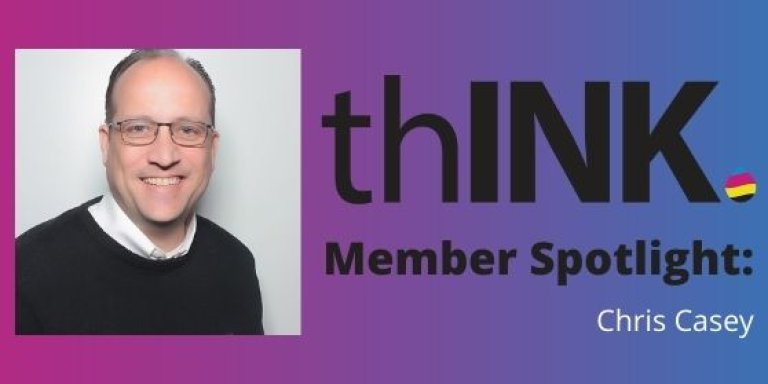 Chris Casey
Senior VP of Sales and Marketing
Creative Digital Printing (CDI)
After working for CJK Printing in Cincinnati, Ohio for over two decades, Chris Casey made a cross-country move to Las Vegas to join his brother at Creative Digital Printing (CDI). CDI Printing utilizes a number of presses and just recently installed the varioPRINT i-series+.
With the challenges 2020 brought, CDI Printing rose to the occasion by adapting to rapidly changing customer needs. With a wealth of experience and a passion for print, the company is dedicated to creating high quality books, catalogues, magazines, and more unique products.
We sat down with Chris to talk about his experience with inkjet and the printing industry.
Tell me about your background and experience with inkjet.
 
After starting my printing career in 1986 while in college, I worked with CJK Printing in Cincinnati from 1997-2020. I held many different positions there and ended up as the VP for Sales and Marketing from 2017-2020. In my experience in the print industry, I saw a future in digital inkjet printing. My brother and I saw that there was a great market for printing in Las Vegas and decided to go after it. 
I made a move from Cincinnati to Las Vegas to work more closely with my brother and we discussed our future in the business. We're a family owned and operated company. Today I'm now teaching my 23-year-old son to run a press.
Tell us about a unique project you've accomplished with inkjet?
 
In the year 2015, we got in inkjet press to get started with that technology. I got my fingers in the mix by printing textbooks and I knew that's where things were headed.
The press I had then wasn't as high quality as the press I have now. Now, I can print magazines, high-end children's books, high-end catalogues, hardcover books, saddle stitch, and more. Whatever the customer wants, this press has it.
What's the biggest benefit of using inkjet?
Return times and the cost of books. Customers can say, "I need 100. Can I have it in 2 or 3 days?" and I can say, "You bet, I can have it in 2-3 days." 
I have one book in particular that's running that has 72 saddle-stitched pages and needs 2,500 copies with 50% ink coverage. With inkjet, I can have it done in 16 hours.
I'd love to have my shop all open so that I can show customers the process. I've had four to five publishers in here over the last two to three months to go through tours and show them the printing side of things. They really enjoy seeing it.
We're able now to get back out there to see customers, which is what we need to do. The best way to make friendships and partnerships with people is to be one on one to shake their hands and get to know them.
Tell us about some ways you've gotten creative recently. Have you discovered new markets for inkjet as people have adjusted to the challenges of the past year?
When COVID hit and Nevada was shut down, it slowed down the print industry. Despite that, children's books have seen dramatic growth.
Over the past year, we've been facetiming customers to see how their job is doing. I'll take my phone, put it up against the press, and show them how it's running. I've been posting and talking to customers via Zoom, LinkedIn, and Facebook. I follow authors' and publishers' sites, run ads, and give them my phone number. I keep it simple. I've met a lot of young people — . people around the ages of 20-25 are some of our biggest supporters. They want to connect with someone who really knows books.
We're a small, family business. But when I start talking about books, talking about how thick the spine should be, pages per inch, things they have no knowledge of, it can help our customers with their products. I also have a background in graphic design, so I can help people with layouts. Making books is my passion. I'm a book guy.
This last year has been challenging, but I think we're headed in the right direction.
The book industry is evolving quickly. You can go to any Facebook page and author's website and you'll see children's books everywhere. They want someone who will print it the right way and personalize it for them. You could go straight to Amazon or you could print the book yourself and then publish on Amazon. I deal with some pretty large publishers who work with Amazon.
The textbook industry took a hit last year, but the trade industry did quite well. A lot of the other publishers like the college and career people moved online last year, so it was more challenging. I think it'll pick up again for K-12 printing this coming Spring and Fall.
In addition to the i-series+, what other devices do you have in your shop?
We have a Canon imagePRESS C10010, a 710 we just purchased, and a varioPRINT. We also have the latest Mimaki, among others.
Difference in printing in Vegas vs. Cincinnati?
The market is changing and we're finding out the textbook side of the business is more wholesale since we moved to Las Vegas. They want these books for next to nothing. Quality means a lot to me. I want the type of customers who care about quality and are willing to pay a higher price for it.
I print a lot of commercial too. Menus, flyers, you name it. We're doing a lot of other things on that press to keep busy. There's a wide array of uses beyond just books.
Have you seen an increase in menus and other types?

I really noticed the NCR taking off. Before, you'd have to go to an offset press and then another press to number it. Now, you can use the same press to both print and number. Where jobs would take weeks before, they take days now.
What recommendations would you make to people who are considering the switch to inkjet?
The thing people don't realize is the quality of inkjet. I've done high-end magazines and showed them to the industry. The gamut of color is incredible.

I can put an offset job against this inkjet press. To a general person who doesn't know printing, they're not going to notice. But a toner press almost looks too glossy or shiny, whereas the product looks better and pops out of the page on inkjet. It just jumps out of the page.
What are some of the biggest challenges you face as a printer, and what solutions have you found?
The old press I had was a Truepress Jet520. It wasn't high-definition. It was one of the first generation presses that came out and it wasn't the same quality as we have now. 
I've printed close to 2-3 million catalogues in my lifetime on both offset and inkjet devices. When you're printing on an inkjet, everything is consistent and you get that quality. It's balanced every single time. Every sheet is the same with phenomenal HD.
I've had my challenges, but Canon has stood by my side. Children's books take a lot of ink and the press is challenged by this. We've pushed the press and nobody has touched the quality we've been able to print.
What kinds of paper do you typically use?
My house sheet is the Endurance Gloss 80lb. On the uncoated side, we run 60lb Accent super smooth.
Anything else you'd like to share with the thINK community?
Canon has the full-picture when it comes to presses. I don't have flatbed or web-fed devices. I don't have my eggs in one basket when it comes to that, but I think we're going to do a lot better in the next 12-18 months. If you have inkjet technology, you're going to win.