Join in the community forum! The thINK blog is a place for community members to share their opinions, best practices, successes, and challenges. Add your comments to the blogs published here or write a blog and we'll post it for you.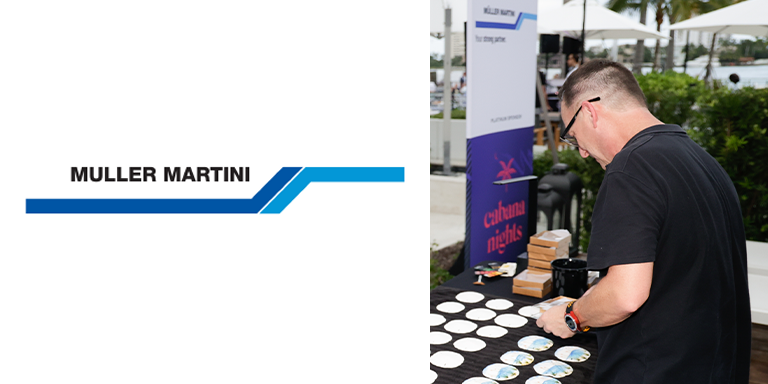 Muller Martini Attends thINK Ahead 2023
thINKForum produced another exciting tradeshow experience highlighting Canon solutions. Muller Martini has supported this endeavor for ten years and will continue to do so. We feel an obligation to keep up with everything that affects the digital print and finishing solutions industry. We take every opportunity to be more involved since we are actively contributing to the future of finishing solutions.
Muller Martini enjoyed participating and sponsoring the poolside cocktail hour, during which time we gave out traditional sand dollars with an artist on-hand who provided personalizations for the mementos. The opportunity to visit, network, and relax with new and old acquaintances was appreciated and enjoyed by all. 
Part of the experience we enjoyed was attending the educational sessions.  They were extremely informative, leading us to discussions with our peers. Regardless of how many years of experience you have, there is always something new to learn, knowledge to impart and gain, and new concepts to consider and build upon. The presenters were impressive in their knowledge and without a doubt, at the forefront of the subject matter presented. 
With over one thousand attendees, Muller Martini's exhibit was embraced and enjoyed by attendees. Our theme was "Thriving in a Smart Factory World," which showcased our digital finishing solutions with the use of videos and brochures. We were represented by two of our leading technology experts in smart factory operations, Carlos Martins and Mauro Valle (both Solutions Managers). As authorities on digital workflow and digital book finishing production, they answered questions, explored new opportunities, and availed themselves of all the show had to offer. Carlos stated, "I thought the conference was well attended, and the conversations we had focused on many positive technology concepts. It was a worthwhile event to learn from and be able to share with clients and prospects."
As part of the tradeshow experience, Canon introduced their CIC – Customer Innovation Center. Shuttle buses were provided for attendees so they could visit the Canon showroom, look at models and equipment, and see their technology firsthand. The open-concept design is set up like a printshop, with working systems available for viewing, which we found quite informative and enjoyable, especially the workflow solutions area. Muller Martini had a table at the CIC, and we were able to greet other attendees, answer questions and provide information. It was a wonderful opportunity to meet people. We enjoyed participating and hope to do so again.
thINKForum provided a venue for the best in the industry to learn from and share with those who push the limits. Whether you are interested in workflow, direct mail, digital solutions, ink solutions, etc., there are always opportunities to learn and teach. We will continue to attend these shows to ensure that they provide the solutions needed within the digital finishing solutions industry now and in the future. The effort everyone makes to keep educating themselves and keep on top of the industry is relevant and evident. Everyone shares what they are doing. We embrace this concept and will continue to share our knowledge and ideas with our customers to better their lives and livelihoods. 
Canon, and Muller Martini, are committed to the future of the digital printing industry. Their technological developments are getting bigger and more diverse. They continue to bring innovative technology to the industry and Muller Martini is happy to be part of this commitment. Their efforts were appreciated, and we look forward to another ten years of quality and innovation.