Join in the community forum! The thINK blog is a place for community members to share their opinions, best practices, successes, and challenges. Add your comments to the blogs published here or write a blog and we'll post it for you.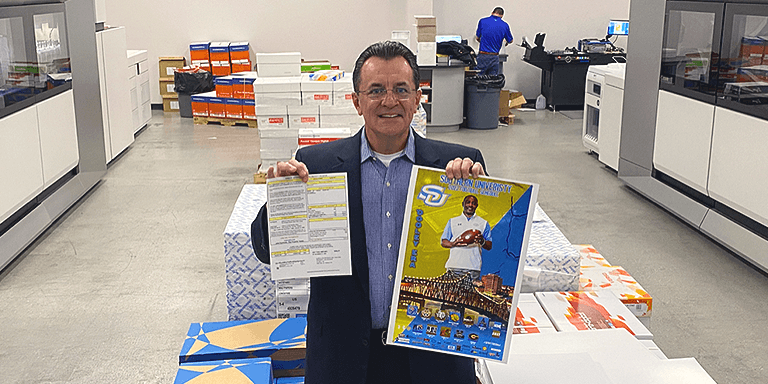 Mele Printing Adds a Second Canon varioPRINT iX Just Months After Their First iX Install
Meet Canon inkjet customer and thINK member Mallery Mele, Owner/President/CEO of Mele Printing
Mallery Mele, Owner/President/CEO of Mele Printing (right), with daughter, Morgan, taken at Mele Printing's annual King Cake class, designed to build customer relationships while educating them on the capabilities of inkjet print.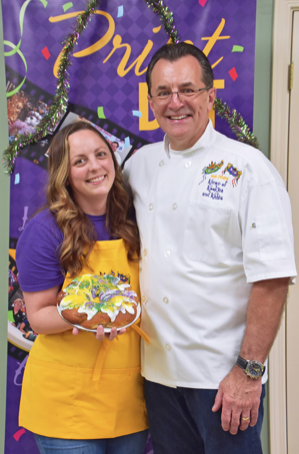 February 8, 2023 — "We are known for our gourmet fudge chocolate chip cookies, king cakes, and delighting our customers," laughs Mallery Mele, Owner/President/CEO of Mele Printing in Covington, Louisiana.
Mele Printing bakes over 70,000 cookies a year in a kitchen built into their 90,000 sq-ft print facility, to box up and give out to their customers. Mallery explains, "It's extremely important to us that our clients know whom they're doing business with. Once they take the time to find out what we're all about, we're confident they'll like what they see. Our people, culture, and state-of-the-art technology win our customers over every time — the cookies just get them here."  
If the cookies don't, the king cakes certainly will! Each year during Mardi Gras season, Mele Printing invites their customers in for king cake classes — so popular now that they schedule more than 10 classes — watch the fun! Mallery comments, "It's a great way to build relationships with our customers but also educate them on the print process. After we make our king cakes, we go out on the print floor and I show them what is possible with today's inkjet print technology. Once they understand the process and what is possible, they leave excited and full of new ideas." 
"We are truly committed to our customers' success. We are all in. We want to build relationships with them and truly collaborate for their success, and I believe that comes through loud and clear," Mallery said. "Of course, building customer relationships and developing trust requires delivering on our promises, and to truly delight our customers we rely on state-of-the-art inkjet technology that can take their ideas and bring them to reality. That's where our Canon inkjet presses come in."
While it's true Mele Printing makes over 70,000 cookies a year, this pales in comparison to the almost 50 million direct mail and transactional print pieces they produce annually. Mele Printing installed two Canon varioPRINT iX inkjet presses with Tecnau inline finishing, perfing, and scoring and increased their revenue by more than 40% this year, much of which they attribute to the addition of Canon inkjet technology. "We grew as much as we could with competitive print devices, but we knew we needed something that could do the work of all our presses combined. The Canon VarioPrint i300 intrigued us and captured our attention, but when the Canon varioPRINT iX came out with the versatility to print high-speed, high-resolution files all the way to the lower resolution transactional printing, it captured our hearts. It has been the only press on the market where we have seen this type of flexibility. It is a very versatile machine and is so fast when it's printing, it's just amazing — and the quality is stunning; that is key for us," Mallery said.
Mele Printing is SOC II Type II compliant and provides high quality statement printing for a wide variety of customers including credit unions, taxing authorities, utility companies, hospitals and diagnostic imaging centers, universities, and medical offices. In addition, Mele Printing assists customers in achieving increased response rates with omni-channel direct mail campaigns utilizing their MailSmart program. The MailSmart program matches direct mail addresses to social media accounts so that mail recipients see ads in their social media feeds before, during and after they receive the direct mail piece. Next the MailSmart program tracks the mail and predicts and confirms delivery down to the individual piece, as well as displays colorful ads on recipients' Informed Delivery portals. When a recipient visits the promoted website, they then begin receiving remarketing ads in their social media channels. If they call into the promoted 800#, the MailSmart program records the call and documents the name, address, and demographics of the caller. Finally, all the reporting down to the individual piece is pulled into an electronic dashboard that Mele Printing's customers can access. This omni-channel approach increases frequency of the marketing message and helps drive increased touchpoints and responses, and ultimately ROI.
Mele Printing is proud to have strong roots in the community, and donates over $100,000 annually to more than 20 nonprofits and community projects. Sustainability is also important to Mele Printing. They use paper made from 10% post-consumer waste byproducts, recycle all excess paper from print jobs, and partner only with paper warehouses that have established an initiative to plant more trees per year than they harvest. In addition, their Canon inkjet presses enable less waste, reduced energy consumption, chemical-free production, and utilize the most environmentally friendly, stringently manufactured aqueous pigment inks. The water-based iX inks deliver odorless prints and no hazardous disposables, and because they have an excellent de-inkability score, the varioPRINT iX-series contributes to better paper recycling. In addition, waste through obsolescence is eliminated with on-demand inkjet printing.
Mallery Mele started Mele Printing over 38 years ago as a one-man operation, waiting on customers during the day, then locking the doors and printing all night on a Hamanda printer. Today, they are now one of the largest printers in Louisiana with over 100 employees.
When asked what recommendation he has for others entering the inkjet market, Mallery replied, "Your company's culture is your most important asset. Company culture is the shared values, goals, attitudes, and practices that characterize an organization. At Mele Printing our culture is well-defined and we attract like-minded employees and partners that share our passion for becoming our best, and helping others do the same." 
Francis McMahon, executive vice president, Production Print Solutions, Canon Solutions America, Inc. shared, "Mele Printing's business growth and customer loyalty are great examples of what happens when a company prioritizes company culture and customer success; these are two very important values that I personally believe are critical, and a key foundation for success." Francis shared his thoughts on value-based leadership in his recent thINK Ahead keynote, "Leadership: Inspiration, Influence and Perspective."
Canon Solutions America has led the evolution of print for nearly a decade, with industry-leading web-fed, sheetfed, and total high-volume inkjet market share in the U.S. reported in 2021. They support their inkjet customers in multiple ways, including through their Executive Sponsorship of thINK, an independent community of Canon Solutions America inkjet customers. Canon Solutions America offers their inkjet customers complimentary membership to the inkjet user group, which is led by a board of Canon Solutions America inkjet customers and offers tools, training and educational resources designed to accelerate success with inkjet. Canon Solutions America inkjet customers can request membership by visiting thINKForum.com. Todd Roth, thINK Board president and vice president Manufacturing & Distribution, Core Publishing Solutions, a Thomson Reuters Business extends his welcome to Mele Printing, "We welcome Mele Printing to the thINK community and look forward to sharing our collective best practices and learning from them, including how to make a great king cake!"
About thINK Forum 
thINK is an independent community of Canon Solutions America inkjet customers, solution partners, and print industry experts, and Canon Solutions America is a proud executive sponsor. Led by some of the most successful inkjet service providers in the country, it provides a forum for members to network, gain knowledge, discuss common challenges, and share best practices. For more information, visit thinkforum.com. 
### 
Canon is a registered trademark of Canon Inc. in the United States and elsewhere. All other referenced product names and marks are trademarks of their respective owners. Views and opinions expressed in this testimonial are based on the actual experiences of each voluntary participant.