Join in the community forum! The thINK blog is a place for community members to share their opinions, best practices, successes, and challenges. Add your comments to the blogs published here or write a blog and we'll post it for you.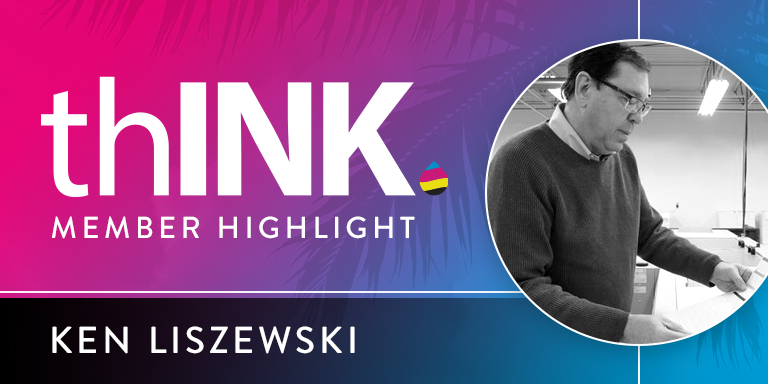 How Ken Liszewski of Matrix Imaging Solutions Gets Hands-on with Inkjet
Ken Liszewski is the Director of Print Services for Matrix Imaging Solutions. In his 18 years at Matrix Imaging Solutions, Liszewski takes a hands-on approach to printing. He prioritizes training for his team and himself to promote teamwork, understanding of equipment used, and empowerment through knowledge sharing. 
When the company implemented inkjet four years ago, it broke down departmental silos, saved time, and enabled an expansion in color print capabilities. Currently, the business uses Canon i300s and a Xerox Brenva.
Benefits of Inkjet
Before implementing inkjet, the company used shells and printed forms with the Xerox Nuvera (mono printer). The next step was adding a Xerox Brenva inkjet, the first one in the country and experienced a steep learning curve as a result. But Matrix Imaging Solutions rose to the occasion by training staff via lunch and learns and sitting down with every group involved to ensure that they have the information they needed to get the best out of their printing equipment. 
Liszewski has a unique approach to adapting to new technology called "the gray area." This refers to the learning and problem solving stage of implementing new equipment. When Matrix introduced inkjet, they used it as a learning experience.
"We used to have what I called a gray area where we asked, 'What do we do?'" Liszewski said. "We had to evolve. That's how we've benefitted from Inkjet, through evolving."
Once Matrix Imaging Solutions overcame the learning curve with their inkjet press, they were able to share its capabilities with clients. 
"We never got pushback from clients and it really says a lot about Canon," Liszewski continued. "We cared about the color enough to match it as closely as we could and it became seamless with Inkjet."
Streamlined projects made possible with Inkjet
Matrix has a 8.5x14" color printed sheet with perforation. Before implementing their Canon inkjet, they had to print these types of projects on a traditional offset press and occupy two aisles in their warehouse with different shells, different pictures, and different forms.
"The operator would have to go back in the warehouse, grab the pre-printed shells, bring it to the black-and-white printer, and feed the printer," Liszewski remarked. "You were always worried you grabbed the wrong shell and you'd have to start at square one again. We'd take months and months just printing the shells."
With their traditional method, they would use over 150 large shells and take an inventory with ID tags and form numbers, which ended up being a labor-intensive process. With the capabilities of inkjet, Matrix Imaging Solutions was able to streamline their workflow.
"With inkjet, we don't have to worry about that anymore," said Liszewski. "It was a quicker way to do it. It was new. We simply met with my analysts. Now, files come in, we get a finished project that's perforated, and it goes right into our inserters in the blink of an eye. All we have now is a white paper warehouse." 
Before, it was challenging to warehouse all the products they needed for a printed and perforated sheet. Before implementing inkjet, they didn't know what the quantities were until a certain point in time. By using the perforation capabilities of inkjet, they now have a seamless process that requires minimal equipment.
Inkjet inspires creativity
Through inkjet, Matrix Imaging Solutions has discovered new markets and rediscovered their legacy paper forms that can be converted into whitepaper forms and solutions, giving their sales staff the ability to rediscover and put a new spin on legacy materials. This redesign has given their sales team the ability to reinvent printing without being backed into a custom shell.
All projects moving forward benefit from this whitepaper and what Liszewski calls the Inkjet color treatment. Now, bills and statements can be made into effective marketing pieces. 
"Just adding a little color opened everybody's eyes," Liszewski said. "When you take into account charts and graphs, it was a game changer. It's like mixing the white paper and ink in the kitchen. You've got the ingredients, but it's what you do with it. You have a recipe for success."
Recommendations for switching to inkjet
When Matrix Imaging Solutions introduced inkjet to their business, they decided to bring different departments together as a way of reducing silos and encouraging communication between their graphics department and programming teams. 
"We see the emails now between both departments and it's cool to see how that's developed, but it was different in the  beginning," Liszewski commented. "It's more than meeting programming and graphics. It's about educating sales, programming, graphics, and our operators on the floor. There are other questions to be answered: which media run best? What are our size limitations? How do we communicate with our inkjet? What are we going to do with the waste? You need to plan and we need to explain that it's green technology, friendly, and isn't going to cause environmental problems."
For print companies looking to switch to inkjet, Liszewski recommends looking at the gray area where different minds come together to figure out how new equipment works, find templates to follow, and come up with a plan. When the first inkjet press hit the Matrix Imaging Solutions floor, it evolved from the gray area — from the point of purchase to the machine's first job. 
"That's the planning stage," Liszewski continued. "With Canon, we had a lot of training. We had an analyst to work with in regards to color. That's how the color curves came up. It was a good thing because we learned to match color throughout our platforms with much success. It was a win/win for everybody. It's planning a big piece of machinery coming in with waves of people installing it — it's all a part of that gray area and who is involved with handling each piece."
The gray area also takes into account changes to price points. Before the business had inkjet, they would use an expensive press to produce pre-printed shells and mono imprinting, which came with high costs. But inkjet technology's click and ink costs, the company knows what the cost for each project will be ahead of time because of the included ink calculator. This makes each project more cost effective and well planned.
Overcoming the challenges of the print industry
Liszewski has been around a variety of different types of printing — from traditional and digital printing, dry ink, heat, and pressure, wires, and fusers, before moving into environmentally-friendly inkjet. Each has its challenges, from determining how to approach each project to which machines are the best fit for each project.
"My i300 is limited by what we can do with gloss stocks. "Have we used 100lb silk or dull successfully? Sure! When we first did this, we had a meeting where everyone was around the conference table. We had 12x18 sheets, one on 100lb gloss cover, which came off my iGens. One was on 100lb silk printed on the Canon i300. We laid them in two piles on the conference table."
Everyone thought the samples looked the same, but I pointed out there's a difference. They didn't believe it until they tried to compare and looked harder. It was close. We know that technology has changed with the newer versions of the equipment. But we did that because I wanted to see what everybody thought."
From that experiment, Matrix Imaging Solutions learned that they can produce high-quality products with their existing inkjet, even if technology has improved in the years since they adopted it. Keeping staff trained on how to use the machinery is also vital to the business, and Liszewski takes a hands-on approach by prioritizing, knowing how to operate each piece of equipment that Matrix Imaging Solutions uses.
"If something were to happen on the floor, no panic, we know the abilities of each piece of equipment it's okay and pass that knowledge to our operators," Liszewski said. "There are little tricks and tips you have to learn. Looking back is interesting and you have to keep evolving. You have to come up with new solutions and ideas, justify margins and costs. I'm very happy because we've used those machines to their full potential. Part of the gray area is knowing what's going to hit your floor and what tools you have."
The future of inkjet
In the future, Matrix Imaging Solutions sees that inkjet presses of today are now moving to encompass a wide variety of offset, uncoated, and gloss stocks. 
"We can buy all this different stock and run it now on one machine," Liszewski commented. "We don't have to fight the heat, the pressure, and the wires. I'm moving to more of a greener, more cost-effective environment. We have operators who are accustomed to running our inkjets, whether it's 100lb, 24lb, or 7 point uncoated. These machines will run all that paper now, as opposed to what it was in the past. There's your evolution again. We see that not only with the recently introduced iX and with the i300's that we have on our floor, but with the larger roll-fed systems as well. It's consolidated our media onto a single platform now and that's the direction where inkjet is moving."
Matrix Imaging Solutions can be found on the web at www.matriximaging.com and on Linkedin at www.linkedin.com/company/matrix-imaging-solutions.