Evaluating Your Finishing Options
Submitted by
pmcgrew
on March 26, 2019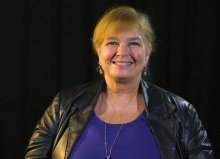 Finishing solutions in your shop can be a necessary piece of infrastructure or a differentiator that brings you new business. How you treat finishing in your production often depends on the type of business you operate. For transaction print and mail operations, finishing may revolve around slit/merge, perf/punch, fold and insert operations, while for direct mail print shops there may be a wider range of options for folding, scoring, creasing, and tabbing. Book printers often focus on book block assembly, binding, and cover-based workflows. Then, commercial printers produce everything from posters to point of sale collateral requiring folding, scoring and cutting. No matter where you fall in the print provider world, finishing can add value to the products you have to offer.
For every printer there is value in walking the production shop floor to see how the current finishing options are being used. Whether near line or inline, finishing is often sited as a bottleneck. How efficient is your finishing workflow? If you run inline print-to-finish do you find that your press is perfectly compatible with the attached finishing, or are the speed capabilities mismatched? If you run nearline finishing, is it keeping up with press production? Is the finishing equipment sitting idle for long periods? Whether your equipment catalog includes an inserter, perf/punch, perfect binder, a saddle-stitcher, a three-knife trimmer, or a coater, you should be gathering data to understand how much time each  operation requires and what your operational capacity is so that you can sell to your capacity.
In a recent thINK finishing workshop, we heard from most participants that they bundle the price of finishing into the estimates for most of the work they sell. Some can estimate finishing costs as an internal line item, but don't make it a line item in the final quote or bid. While this is a common approach, take the time to ensure that you understand your true cost of finishing. If you outsource work, prices may change over time and it may not be accounted for in your estimating programs or spreadsheets. For all work finished in-house, your equipment also can change over time for example new features and speeds,  that should be accounted for in your internal cost of goods sold. If you haven't reviewed your cost of finishing calculations in the last quarter, this is a great time to update your numbers.
In that same workshop, we heard that some participants have estimating, quoting and scheduling programs, but they have not been updated to account for the equipment on the floor. This is one of those places where margin potential may be leaking from your production workflow. No one wants to do it, but it should be part of your quarterly review cycle to ensure that the methods you use to determine costs, and therefore, prices, consider the changes on your shop floor.
The last point of review should be with the sales and customer service teams to ensure that they understand the current finishing options and how to promote them. Just brought in a coater? A new saddle stitching unit? Dynamic perfing? Perhaps you have upgraded your folders and added additional scoring and creasing options? Every piece of finishing equipment should open options for additional products. Saddle stitching can lead from directories to hobbyist magazines. Dynamic perforating can lead to tear off coupons. Take a careful look at your capabilities and make sure your sales and marketing teams are kept up-to-date!
Reserve your spot for an upcoming virtual workshop
Unlocking the Power of Your Inkjet Capabilities: A Tactical Approach to Matching Operations to Sales Growth Opportunities: Find and fill the gap between your capabilities list and your technological investments.

"Fast Five" Workflow Touchpoints: Assessing Your Workflow for Continuous Improvement: Evaluate your current workflow against Keypoint Intelligence's "Fast Five Workflow Touchpoints", which focus on job onboarding, preflighting, imposition, proofing, and data collection.
Pat McGrew is a Senior Director for the Production Software and Services team at Keypoint Intelligence – InfoTrends. As an evangelist, analyst, and industry educator, Pat works with InfoTrends customers and their clients to promote communication effectiveness and best practices. Her experience spans all customer communication channels, as well as transactional print and data-driven production commercial print using offset, inkjet, and toner technologies. Find Pat on Twitter (@PatMcGrew) or LinkedIn.