Join in the community forum! The thINK blog is a place for community members to share their opinions, best practices, successes, and challenges. Add your comments to the blogs published here or write a blog and we'll post it for you.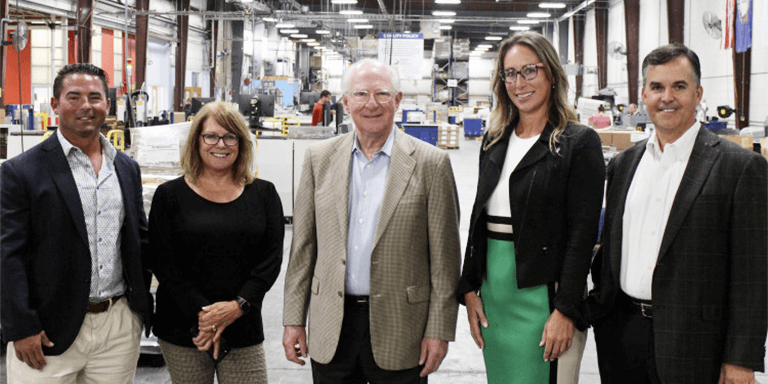 Customer Spotlight: Casey Hendrick - United Direct Solutions
On Veterans Day, we spotlight United Direct Solutions, a Certified Veteran-Owned Small Business authorized by the U.S. Department of Veterans Affairs. Founded by Lee Kirkwood, a retired Air Force Captain with a remarkable military career, his services include a flight instructor at the United States Air Force Academy and as a pilot and instructor in the Kentucky Air National Guard. After his military service, Lee transitioned into entrepreneurship and founded United Direct Solutions. The company has a long history of supporting veterans, and many of its employees are veterans themselves. United Direct Solutions Veteran team members include: Bob Ackerman, VP of Technical Services; David Elam, Machine Operator; Kevin Davis, Production Supervisor; Jimmy Ponder, Team Lead; Lee Kirkwood, Founder; Leon Heard, Machine Operator; Steven Shawler, Material Handler; Timothy Naquin, Warehouse Supervisor; Thomas Weldon, Digital Print Operator; Will Edwards, Shipping Clerk.
Continuous Improvement Strategy Changes the Game (and the Name!) for United Direct Solutions
United Direct Solutions recently rebranded, changing their name (from United Mail) to reflect the company's evolution into a technology-driven entity that offers a wide array of services beyond traditional direct mail. Founded in 1980, United Direct Solutions' directive has remained unchanged: to enrich connections between companies and their audiences. With locations in Louisville, KY and Cincinnati, OH, United Direct Solutions serves small-to-medium businesses and Fortune 500 companies nationwide. With more than 150,000 square feet of office and warehouse space, 250 employees, an expansive logistics network, and an array of traditional and digital services, United Direct Solutions delivers on the promise of relevant and meaningful communications at any scale.
 
Recently, United Direct Solutions was honored with the prestigious Printing Impressions "Innovator of the Year" award for their outstanding leadership in harnessing cutting-edge inkjet technology and their unwavering commitment to fostering a thriving company culture.
Casey Hendrick, Chief Operating Officer of United Direct Solutions, shared the secrets to their success and details of their journey. "Initially we were known for our printing, direct mail, and production of physical marketing materials, but we have continuously evolved over the years and expanded to offer a wider array of services to provide our customers with the ability to create a personalized relationship through a direct marketing experience, which includes digital, email, and online solutions, in addition to, of course, billing, data, and document security." United Direct Solutions is an ISO 9001:2015 certified direct mail and marketing company with SOC 2 Type 2 and HITRUST CSF certifications, which is critical for serving the print needs of their customers in the healthcare, health insurance, and financial services industries. "Our name is just catching up with our full-service offering. The rebranding publicly states our commitment to industry-leading innovation and service, as well as the industry's highest focus on data and document management, privacy, and security."
Casey, a print industry veteran for more than 20 years, shared his insights on the successful evolution of United Mail to United Direct Solutions. "Success is all about continuous improvement. You strive to get a little better every day. To do that, you have to consistently evaluate what you can do better, and then do it." As an example, when Casey found they couldn't offer competitive pricing on self-mailers and postcards using toner devices, he knew there was an opportunity for significant improvement — not only to support their customers with better pricing and gain a competitive advantage, but to improve operational efficiencies as well.
"Our decision was easy once we ran the numbers. We did our homework, and the answer was obvious: the Canon varioPRINT iX inkjet sheetfed press. We are pleased with how it handles coated stocks and the inline finishing, and it has enabled us to bring in outsourced shell work to run a white paper solution. The varioPRINT iX has been sold out since we installed it — we've been working 6 days a week, 24 hours a day," Casey said.
Casey applies the same 'continuous improvement' philosophy to the company culture at United Direct Solutions. "By nature, I'm very competitive; I like to win, and I like to build the teams that win." To achieve this, he places a strong emphasis on creating a work culture that fosters ongoing growth. The culture is based on core values including optimism, determination, teamwork, integrity, respect, trust, excellence, and the commitment to continuous improvement. According to Casey, cultivating the right culture is key. Such a culture is built upon trust, and it allows for vulnerability, which in turn stimulates both personal and professional growth. "Take care of people, stay focused on and live and die by your core values — that is my recipe for success." In addition to his professional career, Casey and his wife have instilled the same passion for mental and physical excellence into their three daughters, ages 15, 16, and 18, all of whom play competitive soccer.
"I cannot agree more with the high priority Casey puts on cultivating the culture at United Direct Solutions. Company culture is the foundation for success, and, with a strong company culture, everyone wins," said Francis McMahon, executive vice president, Production Print Solutions, Canon Solutions America, Inc. "With this type of leadership, it is evident why United Direct Solutions was named one of the best places to work by Printing Industries of America."
When asked what recommendation he has for others who wish to gain a competitive edge with inkjet, Casey replied, "Start by documenting your business needs and the needs of your customers, then take inventory of the investments you already have. Once you fully understand your needs and where the gaps are, start talking to a lot of your peers in the industry and take a hands-on approach to explore the different solutions available to determine what fits you and your company best. Be sure to evaluate all factors, including the market share they have, the culture they have, the service they offer, and of course the price — it's a research-driven decision."
About United Direct Solutions
United Direct Solutions provides clients with the most effective methods to connect, engage, and communicate with their audiences. Since 1980, their marketing solutions have grown from direct mail service to digital marketing, billing, data, and document security, embracing and engaging the latest platforms and technologies. At the forefront of innovation, automation, and expertise, United Direct Solutions develops and implements communications strategies that demonstrates the value of connection and the power of personalized communications. For more information, visit udsolutions.com.
About thINK 
thINK is an independent community of Canon Solutions America inkjet customers, solution partners, and print industry experts, and Canon Solutions America is a proud executive sponsor. Led by some of the most successful inkjet service providers in the country, it provides a forum for members to network, gain knowledge, discuss common challenges, and share best practices.