Pushing Out the Plastic: Selling Print as an Eco-Friendly Alternative
Plastic, once considered the perfect material for practically any situation, is now under increased scrutiny. There are numerous reasons for this, but a lot of it comes down to plastic's durability. This has become a liability as garbage and waste continues to pile up on a global basis. Something that has become an issue for plastic may represent an opportunity for paper manufacturers, provided they can address their own problematic past when it comes to environmental damage and deforestation. With a combination of sustainability initiatives and the right marketing languages, print service providers can position the degradable nature of print as a serious advantage over the growing plastic problem.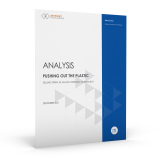 Download File
Pushing Out the Plastic
Begin selling print as an eco-friendly alternative.