Print Buyers Want Inkjet... They Just Don't Know It Yet!
Even the most astute and well-informed print buyers might not correlate their needs to today's inkjet printing solutions. This is particularly true if their current print provider is without an inkjet solution or if they haven't considered inkjet for their printing needs in the past year or two. If either is true, it's very likely they can't fully appreciate all the things that inkjet can deliver today. This document explores how print service providers can help their customers and prospects realize the value of inkjet for their communication needs.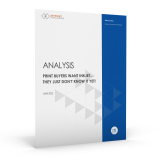 Download File
Print Buyers Want Inkjet
This document explores the value of inkjet for communication needs.