Market Opportunities for SaaS and Subscription Services in Western Europe
Cloud-based software delivery, or Software as a Service (SaaS), has been predicted to become the preferred software delivery model for years. Keypoint Intelligence's latest research indicates that it has already crossed that line, at least in Western Europe. This document explores some SaaS-related findings from our 2022 Western European Software Investment survey and how they are impacting the printing industry. North American SaaS adoption might differ, and we will investigate that and compare the two regions when our North American Investment Outlook study is released later this year.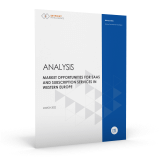 Download File
Market Opportunities for SAAS
Explore SaaS-related findings from a 2022 Western European Software Investment survey.