Lead Generation: Why It Might Be Missing the Mark and How You Can Fix It
When properly executed, a lead generation program will enable your sales team to focus on the right activities so you can stay top-of-mind with the audience you hope to do business with. There are several lead-gen tools and techniques that should be explored before you can decide what will work best for your business. This article explores how to get the most from your lead generation efforts while avoiding the possible pitfalls.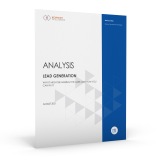 Download File
Lead Generation
Your lead generation strategies may be missing the mark. Read to see how you can fix it.