The Importance of Contextual Data to the Customer Experience
Customer experience (CX) is a big priority for most businesses. Many leaders believe that they know their clients, but this belief means little if their customers feel otherwise. Today's businesses are investing a lot of money in understanding their customers and are collecting a huge amount of data on them, but their insights on customers' overall experiences are limited. This article discusses the importance of collecting the contextual data that is required to deliver a meaningful customer journey.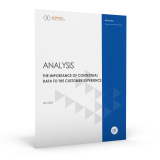 Download File
Importance of Contextual Data
This article discusses the importance of contextual data to the customer experience.