Business Development Strategies: A Road Map for 2022
At the beginning of each year, the analysts at Keypoint Intelligence reflect on the past year, contemplate the next, and compile a list of key trends that are expected to impact print service providers in the months ahead. This article explores some of the trends specific to marketing and direct mail that are expected to shape our industry as we move toward the future.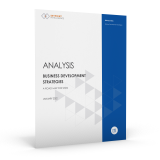 Download File
Business Development Strategies
This road map for 2022 will help you reflect on the past year and think about the next.