Big Data's Role in the Printing Industry
Big data involves enormous data sets from various sources that need management and access speeds far exceeding traditional relational database capabilities. The printing industry gathers large amounts of job, customer, and processing data now that today's print service providers (PSPs) handle most jobs digitally. There is a difference between big data and very large databases using structured query language (SQL) coding. The differences between these two concepts are significant because they change how providers develop and maintain big data software solutions. Thus, big data solution programmers require a different level of understanding, education, and skills than traditional database developers.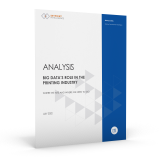 Download File
Data's Role in Printing
This article explores big data's role in the printing industry.