Making the Most of Print in 2018
Submitted by
lisa_cross
on January 26, 2018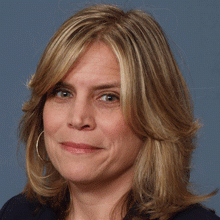 In 2018, organizations will select communication channels based on the experience delivered to customers and print will play a key role. Keypoint Intelligence – InfoTrends research confirms the viability and strength of print as organizations continue to invest the majority of their budget dollars on it. As we kick off the new year, here are the top ways to make the most of printing in the new year. 
Customer Experience is Priority.  Communication decision makers are focusing on the experience a media channel delivers, rather trying to reach customers via all types of channels. An individual consumer will often interact with a brand in a variety of ways; in some cases, that consumer might be concurrently interacting with a business via multiple channels. At the same time, however, the consumer will still expect a consistent experience regardless of the channel (or channels) in use. Even if a consumer is using multiple channels to connect with a brand, the experience must be as if he/she is only interacting on one. As a result, touchpoints are becoming more fluid and channel-agnostic in terms of how brands communicate with customers. A successful customer communications strategy will focus on connectivity, availability, and responsiveness. 
Playing Up Inkjet Printing. Print will continue to play a strong role in the communication mix for all organizations. InfoTrends' recent research study, In Search of Business Opportunities: Finding the Right Prospects surveyed over 1,000 small and medium-sized businesses. Those organizations report that 43% of their total communications spending is on print. Although dollars are expected to shift to online, video, and mobile, print will still account for the largest share of spending in two years (Figure 1).  

Figure 1: Print Dominates Communication Spending 
How is/will your company's total spending (be) distributed by the following communication types? (Means)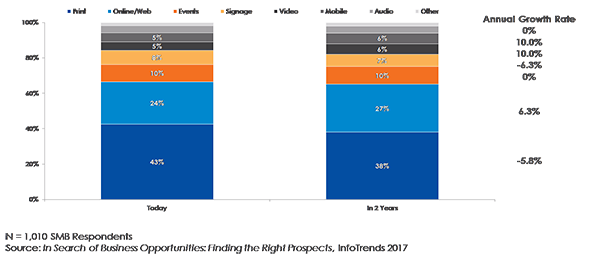 In 2018, marketers are still looking to print service providers for numerous applications including: 
Business Cards:18% 
Sales and Marketing Collateral: 13% 
Direct Mail: 9%
Signage: 9% 
Statements/Invoices: 8% 
Newsletters: 6% 
Presentations: 6% 
Office Stationery: 5% 
Promotional Products: 5% 
Proposals/Reports: 4% 
Other (includes the other 10 categories studied): 17% 
For certain applications, customer requirements are shifting the demand from offset production to digital production. Key transition drivers include economics, changes in use, electronic replacement, demand for personalization, and moves to shorter runs. Of the page growth in digital printing expected over the next several years, InfoTrends' forecasts inkjet will represent 58% of total digital color volume. The dramatic growth that inkjet is enjoying is the result of continued innovations in roll-fed technology, the introduction of cut-sheet inkjet technology, new applications, a drive for more customized communications, and the cost-effective migration of offset volume to digital color based on significant improvements in speed, substrates, quality, and cost.
Linking Print and Digital Media Drives Results. Today's marketers have more communication options with which to engage customers than ever before. The challenge lies in determining the most effective media channels to drive the customer experience forward. According to InfoTrends' research of enterprise firms with more than 500 employees, the average number of media types used in a typical campaign is three. Furthermore, print continues to play a vital role—40% of respondents are linking print with digital media to drive better response rates and another 40% are considering doing so in the future. Many of today's campaigns are blending print with mobile barcodes, mobile apps, text messages, augmented reality, and links to personalized URLs (pURLs) and videos. In today's multi-channel world, providers who understand the technologies that make print interactive will be in the best position to guide marketers in integrating online media with print to enable cohesive, unified marketing.
Data Services Can Strengthen Your Print Offerings. Customers are continually confronted with a critical challenge—bad, inaccurate data. According to Marketing Sherpa, 2.1% of contact data goes bad every month. Data enrichment/appending—the process of finding and adding missing or inaccurate attributes in existing data contract lists—is a service that correct this situation. Data enrichment services represent a significant business opportunity for print service providers to offer differentiated value-add to their clients. Businesses that have a better understanding of their customers' habits can concentrate marketing efforts on areas that will maximize conversion. Marketers participating in InfoTrends' study Lead with Data; Follow with Print report that data enrichment is a critical area of focus. Although 60% of marketers indicate that they have a data enrichment strategy to augment marketing databases, the opportunity is that the remaining 40% need help enriching and augmenting data. 
 
The takeaway? Print matters and is an essential channel! How will you help your clients make the most of print in 2018?