2018: The Inkjet Market Continues to Expand
Submitted by
ehawkinson
on February 13, 2018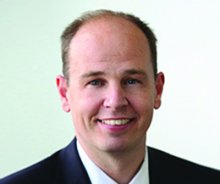 Production inkjet has come a long way and is now approaching the speed and quality of offset printing—with all the advantages of digital. This technological breakthrough is inspiring print professionals to provide creative solutions for their customers that would have been technically impossible or cost-prohibitive in the past. 
The Application Migration
Whitepaper workflow and the elimination of pre-printed shells made low-coverage transaction documents and direct mail early targets for inkjet. The demand uncertainty for books made "on demand" book publishing an ideal inkjet opportunity. This year, more and more pages and applications will migrate toward inkjet based on innovations in roll-fed technology, the availability of cut-sheet inkjet, improvements in speed and quality, expanded inks and substrates, and reduced costs. These enhancements will drive more graphically rich applications, including high-quality direct mail, catalogs, collateral, and magazines to inkjet technology. This phase is only just getting started and is expected to accelerate over time. 
Industry experts like Keypoint Intelligence – InfoTrends are forecasting substantial growth in digital color print pages as applications expand. Projections are that total impressions will demonstrate a CAGR of 12% between 2016 and 2021. The forecast calls for cut-sheet electrophotographic digital color pages to demonstrate a compound annual growth rate (CAGR) of 6%, while inkjet will show a CAGR of 17%. Of those pages, inkjet will represent 58% or 871 billion digital impressions by 2021. With all of these advancements in technologies and applications, print service providers are asking not IF, but WHEN they should be making the inkjet investment. 
Figure 1: Digital Print Volume Continues to Grow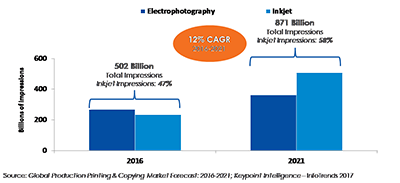 Critical Success Factors
Although inkjet represents a tremendous opportunity, Canon's experience over the past several years tell us that production inkjet is not a "field of dreams"—customers won't just come if you invite them! There are five common critical success factors that inkjet owners should consider.
A solid business strategy: The inkjet investment needs to be backed with a solid business plan. The most successful users carefully analyzed the business opportunity and identified key anchor applications as well as specific new business opportunities to justify the investment before they purchased inkjet equipment.
Getting the workflow right: A workflow process is at the heart of a successful production inkjet implementation. By taking as many steps out of the process and eliminating as many manual touches as possible, service providers can become more cost-efficient, improve margins, shorten production time, and deliver value-added solutions. This ranges from data management to prepress and color management to data cleansing and postal optimization. 
Sales education: Printing salespeople that are used to getting specs and sending out quotes are typically not ready to handle the programmatic selling and the unique messaging associated with inkjet. Inkjet requires sales teams to have a different conversation with clients. The sales staff needs to be able to turn the conversation with their clients toward "how can we help you achieve higher ROI?" or "how can we move your information more efficiently?" 
Leveraging your vendor: Whether it is streamlining workflow or ensuring the delivery of consistent color to your clients, print service providers need to leverage vendor resources to optimize operations. Canon has a professional services team that can work with you on everything from workflow assessments to G7 certification. These knowledgeable resources will accelerate your path to profitability. 
A mindset for change: Service providers must understand that high-speed inkjet systems are producing high volumes for transaction, direct mail, and books—not because they are cheaper than offset, but because they can do something that offset cannot do. High-speed inkjet requires an applications focus where your success is based on our customers' successes. Printing relevant and targeted content increases customer response rates, while increasing their bottom lines as a result. Success has become about stories rather than metrics.
The Bottom Line
Inkjet clearly represents a major growth opportunity, but it's not enough to simply buy a cutting-edge inkjet press. To be truly profitable in the inkjet market, business owners and in-plant managers must be strategic and thoughtful. Expanding your opportunity requires the right combination of applications, service offerings, workflow, business justification, and education. Service providers of all sizes should keep an eye on inkjet technology and ensure that they have explored the critical factors that will drive business results.